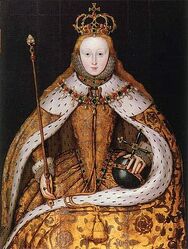 A queen (regina in Latin) is a female monarch who is either wedded to a king (called a queen consort) or a sovereign in her own right (called a queen regnant). Notable examples of medieval queens regnant include Theresa of Portugal, first sovereign of independent Portugal, and Margaret I of Denmark, who founded the Kalmar Union and ruled over Denmark, Norway and Sweden.
List of legendary queens
Edit
The following is a list of legendary or semi-legendary queens of the Middle Ages.
Medieval historical queens by country
Edit
External links
Edit
Ad blocker interference detected!
Wikia is a free-to-use site that makes money from advertising. We have a modified experience for viewers using ad blockers

Wikia is not accessible if you've made further modifications. Remove the custom ad blocker rule(s) and the page will load as expected.